WARNER BROS. WORLD™ ABU DHABI
Immerse yourself in a fantasy world surrounded by your favorite DC Superheroes and iconic cartoon characters at Warner Bros. World™ Abu Dhabi. Experience 29 thrilling rides and kid-friendly attractions at the world's largest indoor theme park with six unique lands, live entertainment and endless family fun. Warner Bros. World™ Abu Dhabi – experience everything you've imagined.
Winter Events
Gear up for festive family fun at the multi award-winning Winterfest at Ferrari World Abu Dhabi, explore enchanting experiences and festive live shows at Warner Bros. World Abu Dhabi's Winter Spectacular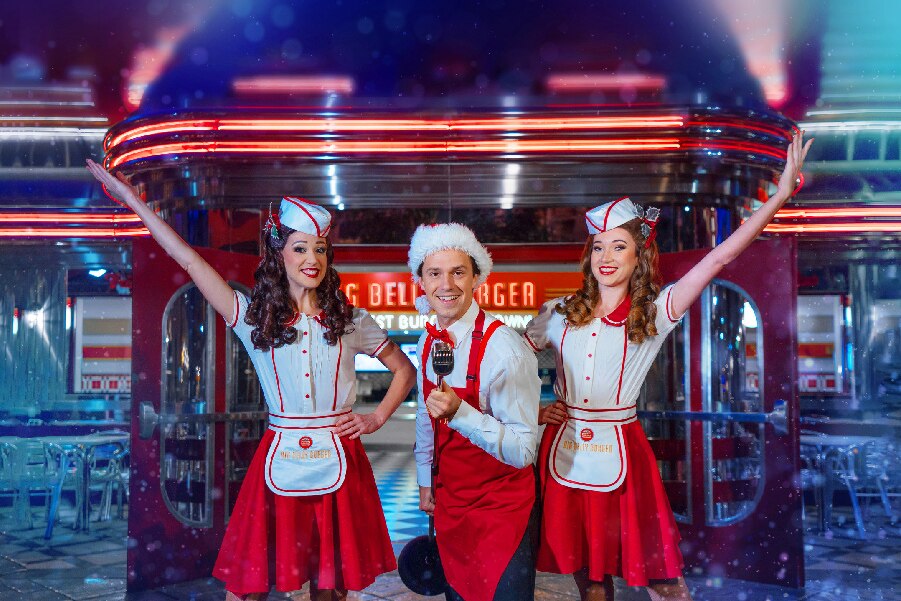 BIG BELLY BOP!
We hope you're hungry! The waiters of Big Belly Burger will be serving up Winter specials just for you with a mix of pop and rock n roll along with an upsized serving of smooth vocals and an extra sprinkle of boppin' dance moves!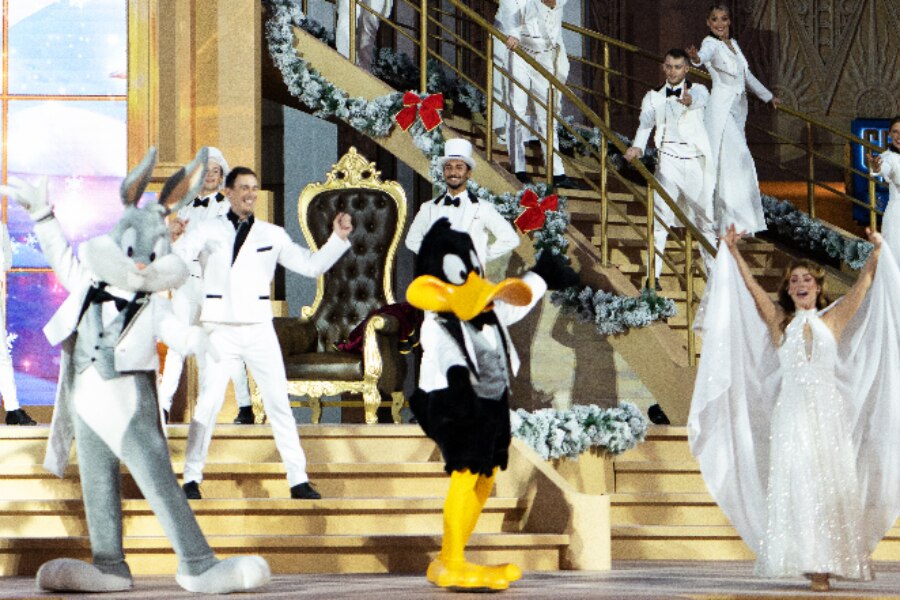 THE NUTQUACKER SHOW
It's storytime spectacular as Bugs Bunny and Daffy Duck take you on a magical journey. With music, dancing and unexpected surprises, this is a show you won't want to miss!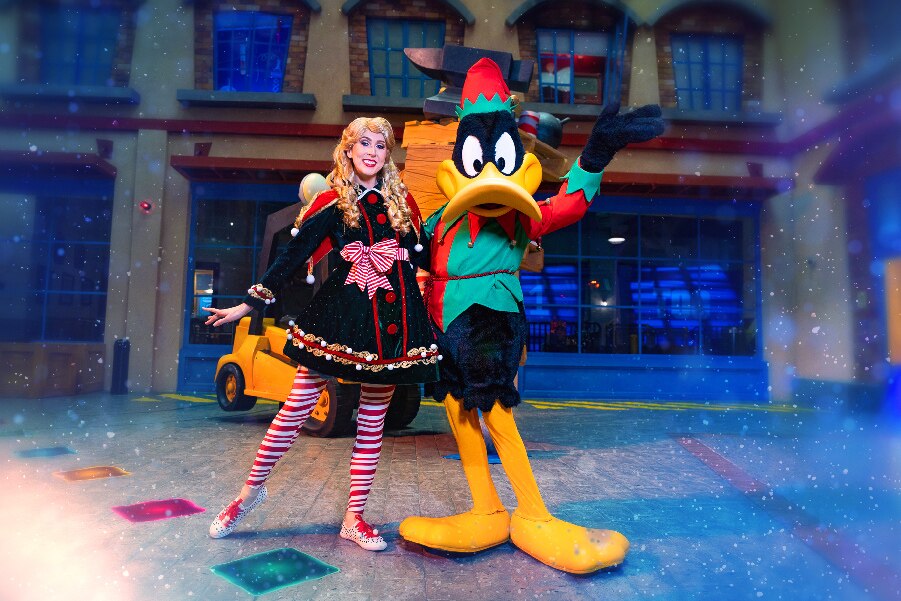 DAFFY'S DANCE PARTY
Daffy Duck is partying in spectacular style this Winter! Join him for his Dance Party – it's sure to be a Quacker!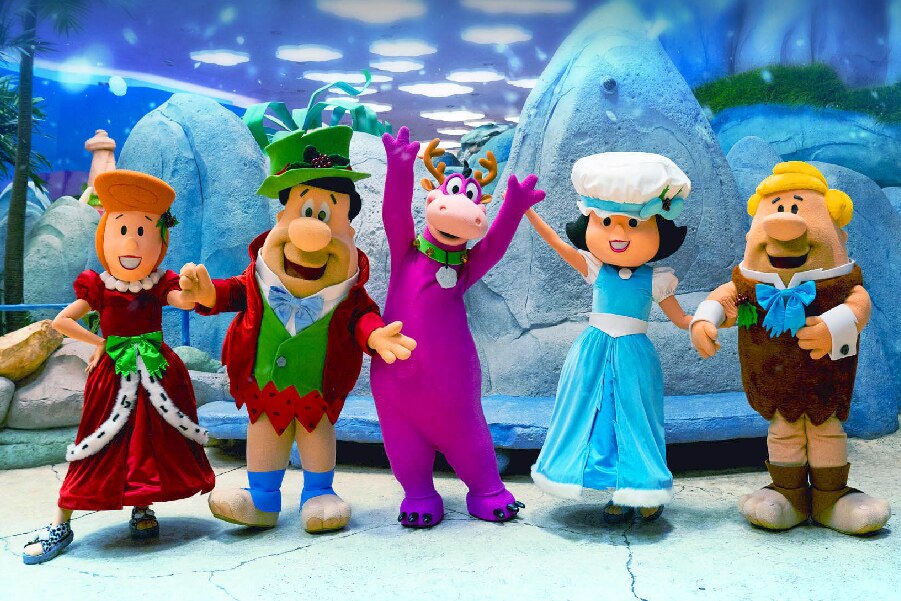 JINGLE BELL ROCK
It's time to Jingle Bell ROCK! Come meet your favorite stone-age family this winter - The Festive Flintstones.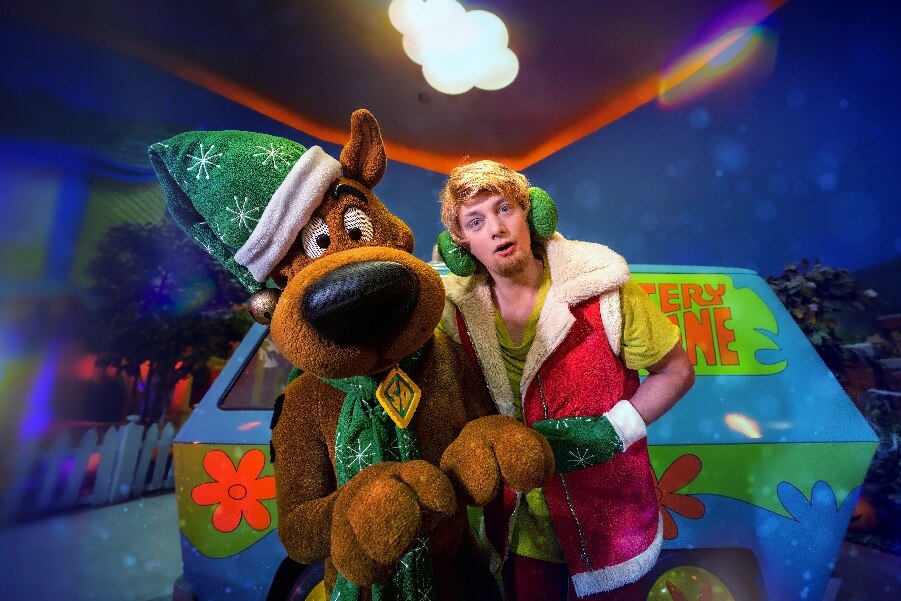 SCOOBY-DOO & THE MYSTERY GANG
Come meet Scooby-Doo, Shaggy and the rest of The Mystery Inc Gang as they keep warm this Winter by solving mysteries.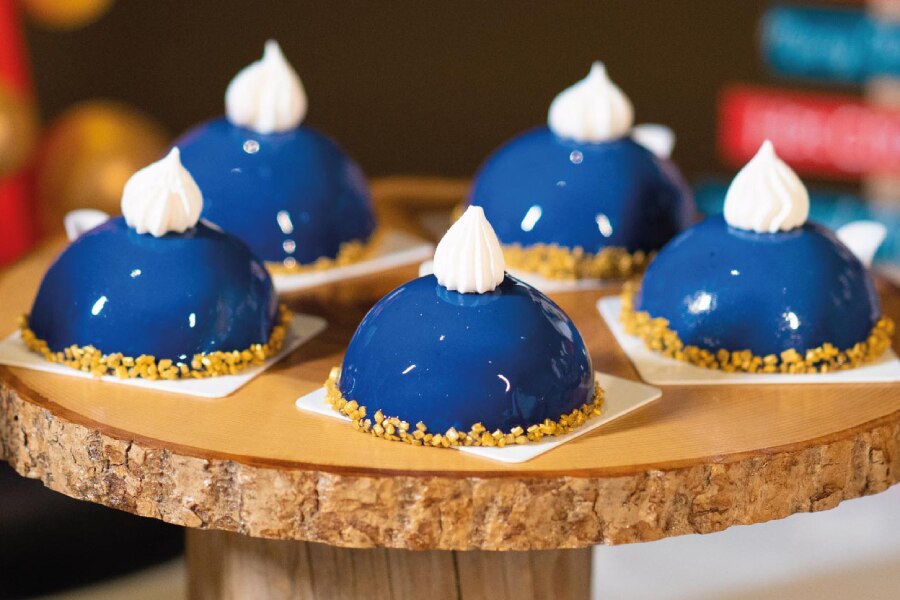 FESTIVE FEAST
Add some extra Seasoning to your Greetings with special festive treats available throughout the Season and an exclusive VIP package featuring two scrumptious set menu options.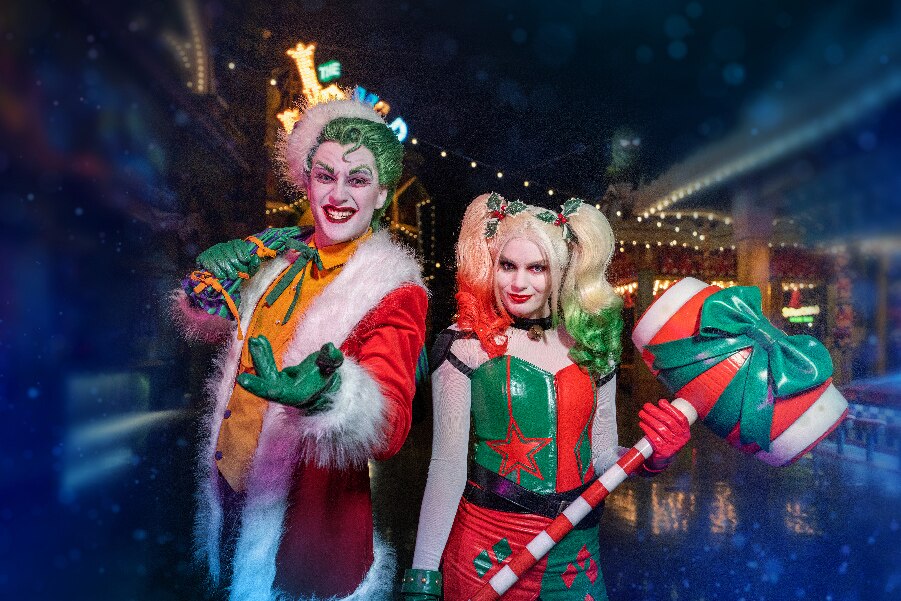 NAUGHTY OR NICE?
Join The Joker and Harley Quinn as they get mischievous this winter, ensuring Batman will be blown away by the gifts they have in store for him.
ESCAPE TO A WHIMSICAL WORLD OF ACTION
A fictional world is brought to life at Warner Bros. World™ Abu Dhabi through thrilling kid-friendly rides, live entertainment and exciting retail experiences.
OUR PACKAGES
Get the most out of your Yas Island holiday with our exclusive packages, including a stay at our world-class hotels and access to some of the most sought-after experiences on Yas Island.
RESTAURANTS AT WARNER BROS. WORLD ABU DHABI
Enjoy surprise visits from whacky Warner Bros. characters as you grab a takeaway or sit down for a meal at our family-friendly restaurants.
THE STARLIGHT
Experience 1930s Hollywood glamour in Warner Bros. Plaza at this family favorite restaurant styled as an art-deco theater.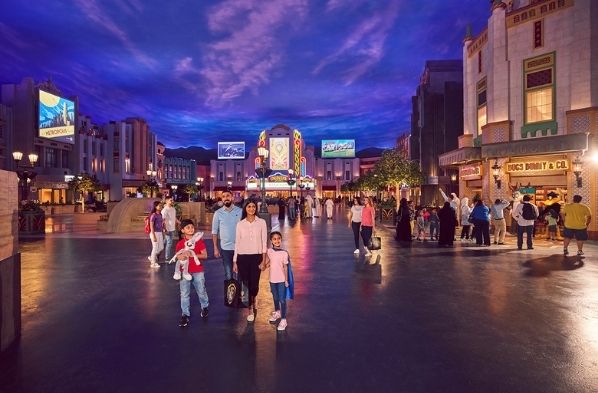 HOLLYWOOD TRATTORIA
Feast on pizza, pasta and all things Italian at this upscale Tinsel Town trattoria. Don't forget to look out for autographed pics of Warner Bros. stars on the walls.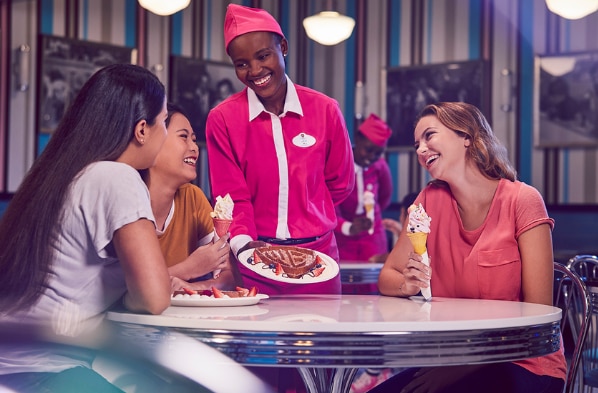 CELEBRITY SCOOP
Decadent old-school sundaes, milkshakes and malts are on offer at this classic American soda shop on Warner Bros. Plaza. There are also hotdogs and pitas if you have space!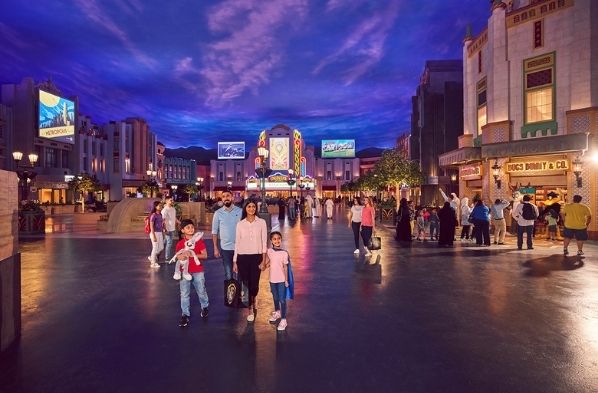 BEVERLY HILLS BOULANGERIE
Indulge in a specialty coffee and a delicious pastry at this contemporary café that also serves light snacks, conveniently located on Warner Bros. Plaza.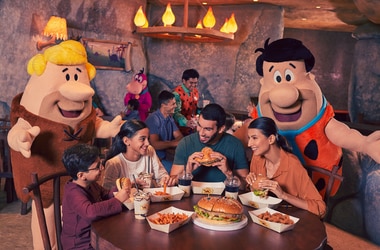 BRONTO BURGERS AND RIBS
Set in the land of Bedrock, this quick-service diner is the place to munch on dino-sized burgers and caveman-worthy ribs, all while seated in a prehistoric car.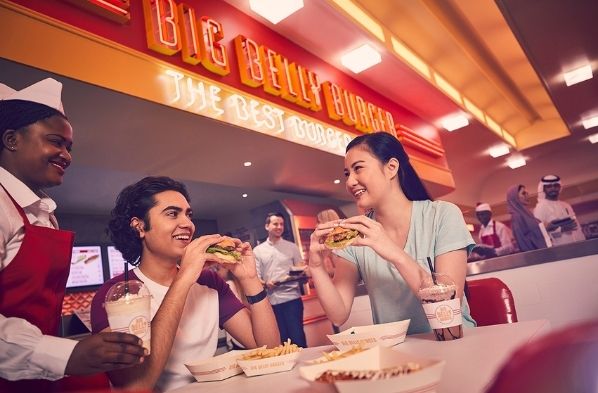 BIG BELLY BURGER
Satisfy your super hero-sized hunger with hamburgers, hot dogs, fries and shakes at this Metropolis-styled diner.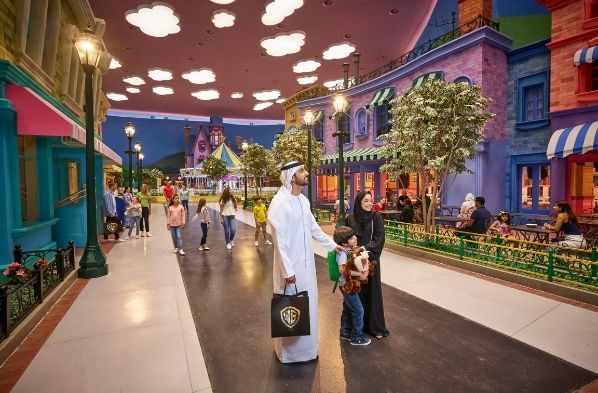 HUCKLEBERRY HOUND PIES
Sweet tooth? Tuck into a berry good pastry at the Cartoon Junction Food Fair while exploring all the other food options on offer.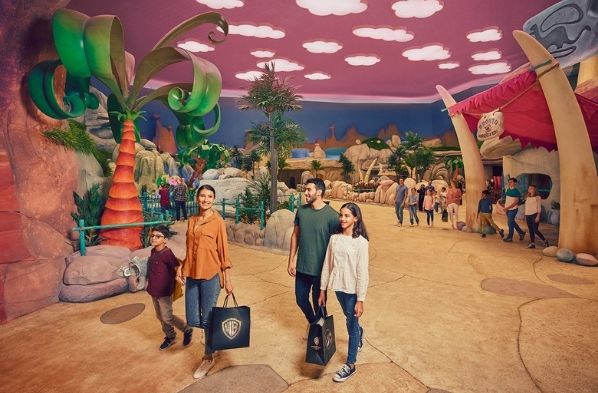 MAMMOTH MUNCHIES
Traverse the cosmos on this awe-inspiring 4D flying theater experience as you and your family join forces with Hal Jordon to save the universe.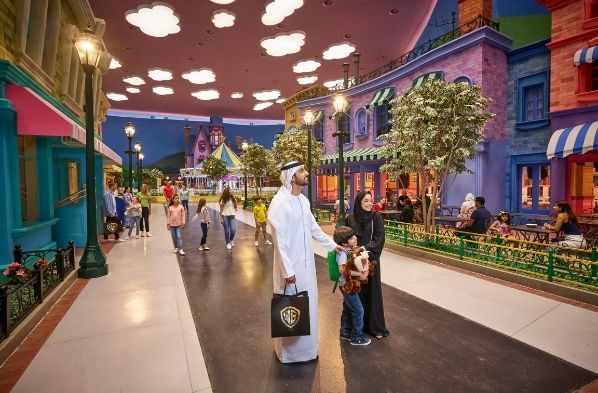 YOGI BEAR AND BOO BOO ICE CREAM
Need a sweet treat on the go? Ice cream, sorbet and slushies are all on the menu at this quick snack stop. Or you can order a signature picnic basket to take with you.
Our other record-breaking theme parks
Looking for one-of-a-kind adventures and endless action? Visit Yas Island's theme parks and discover award-winning attractions and record-breaking rides the whole family will love.