How to Have the Best F1 Abu Dhabi Grand Prix Experience
If you're a certified motor racing enthusiast thinking about the best places to visit in Abu Dhabi this year — where you can revel in the glorious adrenaline rush you get from the sport and cheer for the top drivers alongside fellow fans — there's no question that there's one perfect destination for you: Yas Marina Circuit in Yas Island, Abu Dhabi.
Why?
Because it's the venue for the 2022 Formula 1 Etihad Airways Abu Dhabi Grand Prix, tentatively scheduled on November 18 to 20 this year.
About the Formula 1 Etihad Airways Abu Dhabi Grand Prix
This Formula 1 event is the final race of the season. It takes place over 58 laps of the 5.55-kilometre (3.45-mile) Yas Marina Circuit designed by German engineer and racing driver Hermann Tilke.
The Formula 1 Etihad Airways Abu Dhabi Grand Prix has been held 13 times since 2009. Notable winners are British racing driver Lewis Hamilton (who has won five times) and constructor Mercedes-Benz (winning six times).
Formula 1 Paddock Club
If you're a true-blue F1 fan who wants to get as close to the action as you can possibly get, then purchasing the 3-day (Friday to Sunday) Paddock Club ticket is an absolute must for the best F1 experience ever.
The Formula 1 Paddock Club is a hospitality experience like no other — the grandest and most luxurious space to watch the last race of the season from. Only the actual racing teams themselves come closer to the tarmac and all the revving engines.
Eager to discover what the ultimate VIP experience looks like? Here are the exciting features and inclusions of the 3-day Formula 1 Paddock Club ticket:
A luxurious suite that comes with adjoining grandstand seating
The ultimate vantage point for viewing all the action, such as the starting line (you'll be just above it) and the team garages
View of the F1 practice sessions (Friday), F1 qualifying sessions (Saturday) and the actual race day (Sunday)
A luxury open bar offering the finest wines and gourmet meals
VIP access to the grid for a photo opportunity with the championship trophy
A guided track tour
Access to all Oasis areas
Access to the F1 Fanzone
Access to the Pit Lane Walk (where teams prepare their cars)
Admission to all four Yasalam After-Race Concerts featuring AAA international artists
Admission and Destination Guide
Here's what you need to know about travelling to Yas Island for the 2022 Formula 1 Etihad Airways Abu Dhabi Grand Prix.
Tickets
2022 Formula 1 Etihad Airways Abu Dhabi Grand Prix tickets and ticket packages will be available at the Yas Marina Circuit website and the F1 Experiences website.
Transportation
You have several options to choose from when getting to Yas Island.
Air travel to Yas Island
If you're coming from outside the UAE, aim to land in Abu Dhabi International Airport (AUH), as it is located just 10 minutes away from Yas Island.
Rental car to Yas Island
From Abu Dhabi International Airport, you can rent a car. All car rental offices operate 24/7.
Uber/Careem
Connect to the Wi-Fi at Abu Dhabi International Airport and book an Uber or Careem via their apps.
Taxis to Yas Island
You can take a taxi to Yas Island from Abu Dhabi International Airport (10 minutes), Abu Dhabi (25 minutes), and Dubai (45 minutes). To get a taxi, you can flag them down at the roadside, call the TransAD hotline 600 535353 to book, or use the Abu Dhabi Taxi app available for both iOS and Android platforms. Taxis are plentiful and fares are reasonable.
Buses to Yas Island
Board the 102 Bus Route to Yas Island at the Abu Dhabi Bus Station next to Al Wahda Mall.
Travel to the Dubai Al Ghubaiba Bus Station to ride to the Abu Dhabi Bus Station, then board the 102 Bus Route to Yas Island.
Yas Express Shuttle Service
The Yas Express Shuttle Service is a complimentary service for all guests; simply present your Yas Island e-tickets or vouchers to board the bus.
Boarding spots are available at the Deira City Center entrance (beside Aloft Hotel) and Ibn Battuta Mall, Parking 7 stop (right in front of the China Court section).
The shuttle service bus can take guests to any of the major island attractions.
Accommodation
Yas Island has a range of signature hotels, such as W Abu Dhabi that's built right on the race track. It offers magnificent views of Yas Marina Circuit and is just minutes away from other Yas Island attractions such as Yas Mall, Yas Waterworld, Ferrari World Abu Dhabi, Yas Waterworld, Warner Bros. World Abu Dhabi and Yas Mall.
You can also find some of the most renowned hotel chains within Yas Island, such as Hilton, Crowne Plaza and Radisson Blu Hotels. Of course, there are also hotel options outside of Yas Island in Abu Dhabi and Dubai.
Other Fun Activities
While you're on Yas Island, you can also check out the other attractions to further enhance your experience.
Try the thrilling rides and activities at Ferrari World Abu Dhabi, Yas Waterworld and Warner Bros. World Abu Dhabi. Indulge in some shopping at Yas Mall, golf at Yas Links, go sailing at Yas Marina, dine and party at Yas Bay, or frolic under the sun at Yas Beach.
Race Off to an Extraordinary Adventure
For racing fans who would happily journey to other parts of the world to witness adrenaline-pumping action and shower support on their favourite race car drivers, the 2022 Formula 1 Etihad Airways Abu Dhabi Grand Prix is just the thing for you.
Be on the lookout for great deals and enjoy exclusive access to the very first behind-the-scenes F1 open day at Yas Marina Circuit in 2022.
You can also look forward to more Yas Island packages for the best experiences, so watch this space!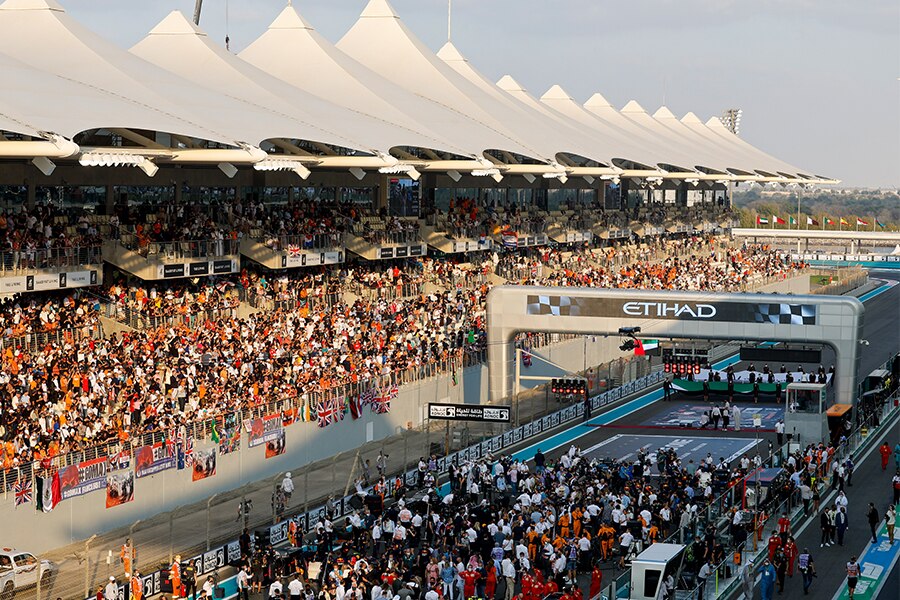 Getting around Yas island