ABU DHABI SHOWDOWN WEEK RETURNS WITH UFC 280 ON YAS ISLAND
Abu Dhabi Showdown Week returns to Yas Island with a series of events and will be headlined by UFC® 280: OLIVEIRA vs MAKHACHEV at Etihad Arena on Saturday, 22 October 2022.

Book the ultimate package including a stay at one of our world-class hotels plus 2 tickets to UFC® 280, starting at just AED AED1,753 per package.

Get...
Read More
UFC 280 at Etihad Arena on Saturday, 22 October 2022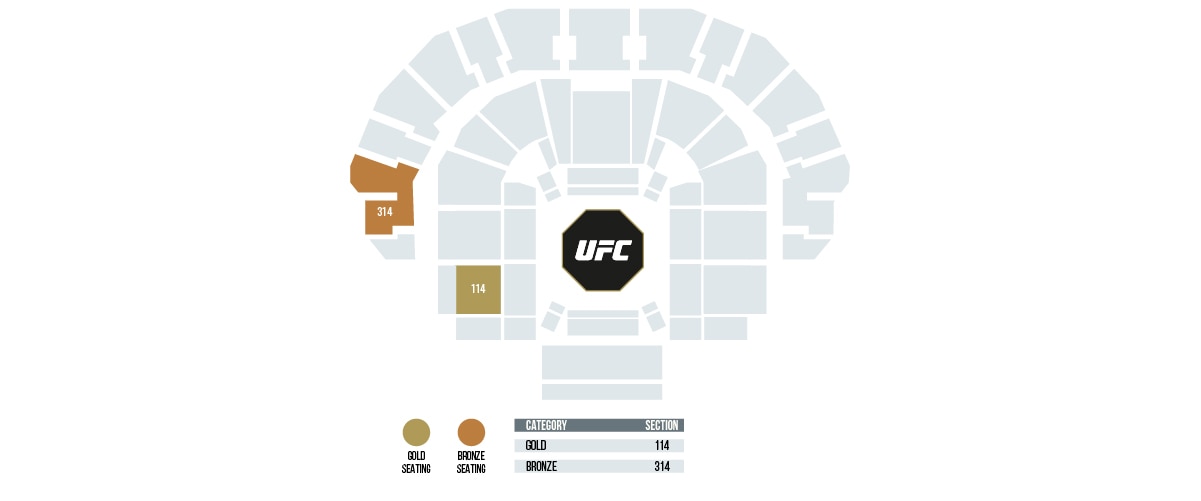 HOW TO BOOK YOUR UFC 280 FIGHT PACKAGE


Arrive on Yas Island for the ultimate vacation experience
UFC 280 Etihad Arena Event Package T&Cs

UFC 280 Etihad Arena Event Package T&Cs

This offer

is valid to purchase on

www.yasisland.com

from [22 August ] 2022 until 22 October 2022.

To qualify for the offer, hotel stays must include the UFC 280 event day (22nd October) and a minimum of one night stay.

The starting price of AED 1,133* per package and is based on bookings made on

www.yasisland.com

for a one night stay in a 3* hotel on Yas Island including breakfast and two tickets for UFC 280

.

Prices include taxes and VAT but exclude Tourism Dirham Fee of AED 15 per room per night.

Offer applies on room sharing basis and is subject to room category restrictions at each participating hotel. Additional hotel charges may apply at some participating hotels.

Please visit

www.yasisland.

com

for product terms and conditions, including details on the applicable cancellation and refund policy.

This offer is not valid in conjunction with any other offer, discount or promotion.

Vouchers for the event will be issued following the purchase of a package. Seating will be allocated and event E-tickets sent to package holders closer to the event date.

We reserve the right to withdraw or amend this offer at any time, without notification.

Offer is subject to availability. Blackout dates may apply.

Guests must adhere to the health and safety measures in place at the hotel, Etihad Arena and as mandated by the UAE Authorities;

please check in advance with the operators for the latest information.

Operator's terms and conditions apply. For more information, please visit the operator's website:

https://www.etihadarena.ae/en/legal#terms

*Prices are subject to availability and may vary

UFC 280 Event T&Cs

All children aged 2 years and older require a ticket

Children under 2 years old are admitted free provided they sit on a parent or guardian's lap

Strollers will not be permitted into the venue however stroller parks will be available. All personal items are left strictly at the owner's risk with no venue liability.

Under 18 must be accompanied by Adult 21+

No professional cameras, audio or video recorders allowed

Bags larger than 30 x 30 x 15cm are not allowed in the venue. There are no storage facilities at the venue

E-tickets will be scanned at turnstile entry. Please make sure tickets are downloaded onto mobile devices in advance.

Contactless payments only are accepted throughout the venue





UFC 280 Ticket T&Cs





All adults and children aged2 years and older must hold a valid ticket to enter Etihad Arena.

No re-entry: The ticket grants a one-time entry into the Etihad Arena, with no right of re-entry.

No refund, no transfer: All ticket sales are final. Tickets are non-refundable, non-transferable, and non-exchangeable, and are for your personal use only. We reserve our rights to confiscate a ticket from you if you resell it or attempt to resell it at a price above face value.

Unauthorized resellers: Etihad Arena reserves the right to cancel any tickets bought from un-authorized resellers, including but not limited to Viagogo or Dubizzle.

No admission: Disorderly conduct, noncompliance with security measures, violation of any rules, policies, or regulations, or unauthorized use of this ticket may result in denial of admission or removal of ticketholder from Etihad Arena and/or prosecution, as determined at the sole discretion of Etihad Arena, their representatives, affiliates and/or agents or law enforcement.

Access is available for those with a disability or other access needs. Accessible seating tickets must be purchased

E-tickets will be scanned at turnstile entry. Please make sure tickets are downloaded onto mobile devices in advance.

Special Terms and Conditions Relating to Covid-19

For the health and wellbeing of our guests, the following special terms and conditions apply until further notice:
In line with requirements from Abu Dhabi authorities, additional facial scan screening is currently in force. If the scan shows a potential positive result, the guest will not be able to enter the Leisure Facility and will be required to carry out a PCR test.
Vaccination Status
In order to gain entry to the Leisure Facility, all guests aged 16 and over must show:
Evidence of 'Green Pass' status in the Alhosn App.
Full 'Vaccinated status' in Alhosn App (or proof of vaccine exemption in Alhosn app)
Please note that, proof of vaccinated status/vaccine exemption may only be evidenced via the Alhosn App (this applies to all guests: including tourists and other visitors)
The above requirements do not apply to guests aged 15 and younger. Government issued photo ID must be provided on request as proof of age;
Guests will undergo thermal scanning prior to entering the Leisure Facility;
Guests must wear face masks inside the Leisure Facility: requirements vary in each Leisure Facility, please refer to the official website for specific guidance;
The mask policy will be enforced for children as well as adults, provided the child is (i) aged two or over (ii) does not suffer from difficulty breathing (iii) does not have chronic diseases and (iv) can remove the mask unassisted if required
The following guests must refrain from visiting the Leisure Facility: guests with possible symptoms of Covid-19; guests who are required to quarantine under official guidance; guests who fall under a 'high-risk' category as defined by the Department of Health – Abu Dhabi
Guests must keep a minimum of 2 meters social distance from others (except for families who live in the same household);
Additional rides restrictions apply;
Certain rides, attractions, experiences and products may not be available. Closures and changes to operating hours may occur, please check the Leisure Facility website for the latest information before you travel;
The operator reserves the right to deny admission, or remove you from the Leisure Facility (without a refund), if you fail to follow the safety rules.
Age restrictions may apply to entry into the Leisure Facility
These special terms and conditions will be updated in accordance with official guidance. Please check for the current rules by contacting Yas Concierge before your visit.